Here. For Anyone Who Believes Banks Should Put People First.
Technology has revolutionized banking, making it faster, easier and safer to bank through the devices we use every day from anywhere with WiFi. We love banking from our phones and tablets, too. We also know our customers value the relationships they build with our bankers, and sometimes that means meeting face-to-face.

We don't believe in using technology to reduce head count or to restrict customer access to experienced, engaged bankers. We know our customers' names and stories as well as their financial statements.
If you're wondering what you're missing if you aren't banking with a people-first bank, give us a call. In about 10 minutes and a few clicks or taps on your digital device, you can switch to Heritage Bank.
For Customers Who Want Service On Their Terms
One customer's convenience is another customer's headache. So, we give you access to top-notch digital banking tools, reliable in-person resources, and easy access to ATMs and phone banking.
Stop by a branch as often as you like. Do most of your everyday banking on your laptop, tablet or phone. We'll never ask you to choose between the convenience of technology and the reassurance of talking directly to a banker.
For Businesspeople Who Need A Banker, Not Just A Bank
You need a banking partner who knows you, understands why your business is unique and isn't constrained by bank-in-a-box solutions. You need a banker who is one call or text away from a key decision maker who also calls this region home.
Find out why our customers appreciate Heritage Bank
Leadership
Resolutely independent. Family owned. Rooted in the communities where we operate.
Our board of directors are committed to the mission of Heritage Bank, a faith-inspired financial institution founded to promote the prosperity of local people and businesses.
Board of Directors
History
Heritage Bank was founded in 1990 by Arnold Caddell, one of Northern Kentucky's most respected entrepreneurs and philanthropists. He brought together a group of local businesspeople who shared his concern about the shrinking access to community banks able and eager to respond to regional consumer and business banking needs. Our founders wondered where local families would find bankers who knew them by name. They worried where tomorrow's entrepreneurs, family businesses and independent mid-sized companies would find banks and bankers committed to their success.
In just 30 years, Heritage Bank has grown into one of the region's leading community banks. After Arnold Caddell stepped down, his son Chris Caddell was named Chairman of the Board and then Chief Executive Officer.
During Chris' tenure, the bank opened its first two branches in Ohio as well as a new location in Williamstown, Kentucky, grew its Treasury Management services, invested aggressively in more consumer products and digital tools, and secured the naming rights to the region's largest entertainment venue – now The Heritage Bank Center. Chris also recruited the long-time leading regional anchorman and customer, Rob Braun, to be the company's first official spokesperson, and was at the helm when the bank crossed the billion-dollar mark. His sudden passing was a shock, but the vision he instilled in every employee and the talent he put in place ensured the bank's resilience and bright future.
Today, Heritage Bank operates 19 locations across Cincinnati and Northern Kentucky, growing its customer base across the region. The Caddell Family and board of directors remain committed to the founders' mission and to Chris Caddell's vision. Heritage Bank is resolutely independent and rooted in the communities where we operate.
Community Commitment
When Heritage Bank opens a branch, we become part of the neighborhood. It's the only way to understand the people and places that make up a community. And when we understand a community, we find opportunities to build up the people and its businesses.
Every year, we provide financial support to 4-H organizations and Junior Achievement, local schools and community family events, business accelerators and organizations who serve the neediest in our communities. Our employees volunteer on company time with company support with foodbanks, disaster relief organizations, active military support organizations and other community organizations to stay connected to every facet of the community.
2021 Governor's Service Award Winner
Ohio Advisory Board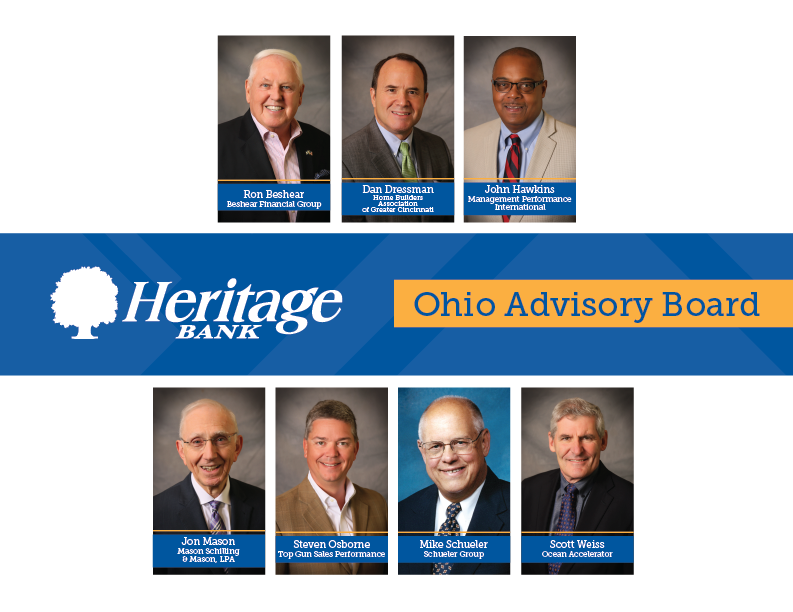 Corporate Culture
You aren't a bank customer. You are our customer. Every employee is responsible for your experience.
For eight years, Heritage Bank has been named a Top Workplace by the Cincinnati Enquirer.
When employees feel appreciated – even treasured – they are motivated to go above and beyond on a regular basis. When a culture celebrates the diverse talent base necessary to consider the customer perspective from every angle, customers enjoy the experience right for them.
Values
Everyday Above & Beyond Service
Great customer service and knowledgeable bankers eager to help should be an everyday experience. At Heritage Bank, we celebrate employees who go the extra mile and surprise customers prepared to settle.

Employee Fidelity
Employees need to feel respected as individuals and appreciated for their role in delivering a great customer experience. Employers need to trust their employees to do the right thing and provide the training they need to be exceptional at their jobs. We create an atmosphere where excellence is contagious.

One Bank
As we grow, we have recommitted to open communication and alignment at every level of the bank - across our directors and senior management, across departments and across geographies. We're united by a common mission, principles and culture.
Community Commitment
Wherever we operate -- whether through a brick and mortar office or through digital banking - we remain committed to building up the communities we serve and the people who call those communities home. We don't just write a check, we put boots (and high heels) on the ground. We don't just show up to profit from a community's good years, we invest in its ongoing prosperity.
Hear From Our Team
Learn More about Career Opportunities
You wouldn't be the first customer who decided to join the team.
Current Openings:
-Tellers
-Deposit Operations
-Credit Analysis
Scholarships
Every year, Heritage Bank awards scholarships to high school seniors from Cincinnati and Northern Kentucky.
Student applicants are recommended by their high school guidance counselors then complete a formal application and interview process.
Winning applicants are awarded a one-time $1,000 scholarship applied to educational costs at their selected institute of higher learning. The other applicants are awarded $150.